_______________



Additional Photos



underside

side

front & rhinophores

young

on food sponge

mating


egg mass _______________


GALLERY


Ardeadoris tomsmithi (Bertsch & Gosliner, 1989)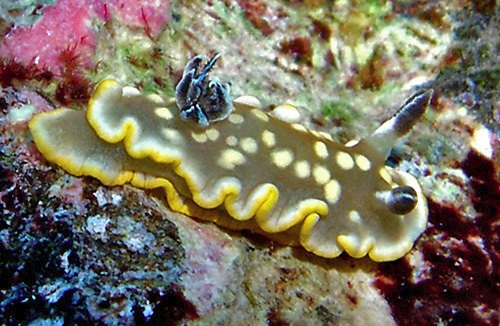 Maximum size:

27 mm.



Identification:

This species is distinguished by its translucent-gray or tan body with cream pustules and a convoluted cream-white mantle margin edged with white and yellow. The rhinophores have white bases and steel-blue clubs with longitudinal white lines on the anterior and posterior faces. The gills are arranged in a double spiral and have white stalks with steel-blue pinnae.



Natural history:

Ardeadoris tomsmithi

is a moderately common, diurnal species found on rocky bottoms. It lives in moderately protected to exposed locations at depths of 1-30 m (3-98 ft). Aggregations are most commonly found associated with a fine-textured, cream sponge suggesting that it feeds on that species. (Note 1) It is one of several Chromodorids that vibrates its gills. It lays a ruffled egg mass variegated in yellow and white (with the color difference expressed in the eggs).



Distribution:

Big Island, Maui, Lanai, Oahu, Kauai and Niihau: also known from the Marshall Islands and Japan.



Taxonomic notes:

This is the species that Bertsch and Johnson, 1981 lists as

Chromodoris albonotata

Bergh, 1877. It was first recorded in Hawaii by Hans Bertsch and Scott Johnson from Makua, Oahu on Sept. 14, 1978 and named for Tom Smith. It's listed as

Glossodoris tomsmithi

(corrected in 2019 printing) and is referred to as "Tom Smith's nudibranch" in Hoover, 1998 & 2006.



Photo:

PF: Molokini Islet, Maui; Nov. 23, 2006



Observations and comments:



Note 1: It's apparent food sponge is often over-grown by other encrusting species.