_______________



Additional Photos



top

side

underside


Elysia sp. #12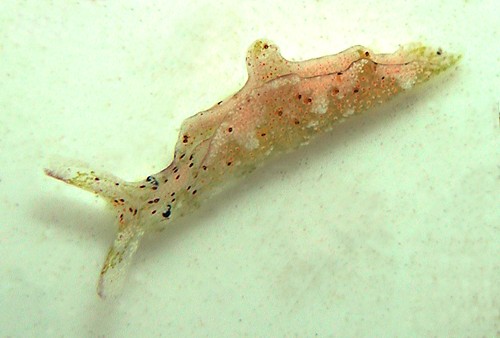 Maximum size:

4 mm.



Identification:

This species is translucent cream with white flecks, scattered violet ocelli with orange centers and iridescent orange flecks. Green branches of the digestive gland show through the body wall and the parapodia are low with two chimneys. There are faint white scallops on the sides of the parapodia in some animals. The eye spots are better developed than in most

Elysia

spp, extending downward into the underlying tissue as lozenge-shaped masses. (Note 1)



Natural history:

Elysia

sp. #12 is a rare species. The only three animals known were found in moderately exposed to exposed rocky habitats at depths of 1-9 m (3-30 ft). When held, they showed unusually strong positive phototaxis.



Distribution:

Maui and Kauai.



Taxonomic notes:

It was first recorded in Hawaii from Hekili Point, Maui by CP on March 30, 2002.



Photo:

CP: 2.8 mm: Honokohau, Maui; Aug. 6, 2002.



Observations and comments:



Note 1: The lozenge-shaped, "three dimensional" eye spots that are partially shaded dorsally by white pigment (in all three animals) hint at a relatively complex use of visual cues by this species. The unusually strong positive phototaxis observed in dishes also supports that suggestion.