_______________



Additional Photos



underside

in field

shell

laying eggs
_______________


GALLERY


Hydatina physis (Linnaeus, 1758)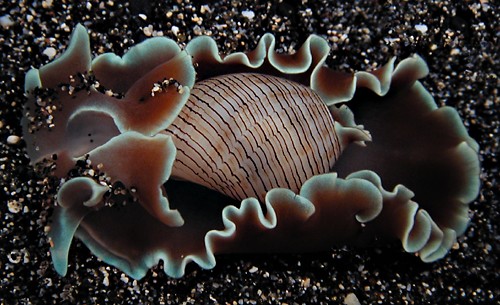 Maximum size:

92 mm (extrapolated from shell length of Leeward Is. animals); main island animals probably seldom exceed 54 mm.



Identification:

This species has a translucent brown body shading to iridescent blue-white marginally. The shell is faun marked with fine spiral brown lines. (Note 1)



Natural history:

Hydatina physis

is a rarely seen nocturnal species that buries itself in sand during the day. It is found in tide pools and mixed habitats to depths of 1-2 m (3-6 ft) at moderately exposed sites. It feeds on polychaete worms (Rudman, 1972) and its egg mass is similar to that of

Aplustrum amplustre

(though usually more elongate). (Kay, 1979)



Distribution:

Big Island, Maui, Molokai, Oahu, Kauai, Niihau, Pearl & Hermes Reef and Midway: circumtropical.



Taxonomic notes:

It's referred to as the "paper bubble shell" in Hoover, 1998 & 2006 and may have been first reported from Hawaii in Pilsbry, 1921 (as Hydatina physis staminea).



Photo:

Mike Severns: found by CP; Napili Bay; Sept. 8, 1995.



Observations and comments:



Note 1: Shells of this species show strong red fluorescence under ultraviolet light (395 nM).