_______________



Additional Photos



underside

shell
_______________


GALLERY




Julia

sp. #1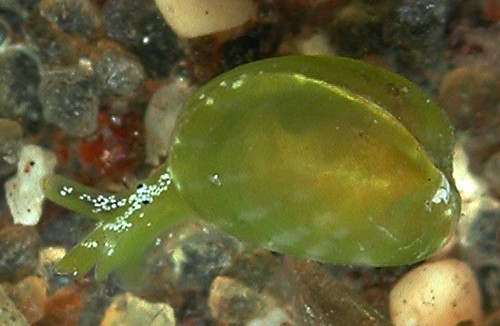 Maximum size:

2.6 mm (extrapolated from shell length).



Identification:

The shell of this species is green to olive-brown with irregular radiating bands of lighter pigment. There are no dark brown markings. The posterior margin is broadly rounded and the hinge tooth is pyramid-shaped with ratchet-like ridges on its sides (in contrast to other species of

Julia

). The animal is green flecked with white. The white flecks are concentrated on the dorsal surface of the head and rhinophores. (Note 1)



Natural history:

Julia

sp. #1 is a common diurnal species found at moderately protected to exposed rocky sites. However, it is almost never seen due to its small size and cryptic color. It occurs at depths of < 1 to 6 m (< 3 to 20 ft).



Distribution:

Big Island, Maui, Oahu, Kauai, French Frigate Shoals and Midway: widely distributed in the Indo-Pacific.



Taxonomic notes:

Live animals were probably first recorded in Hawaii from Hekili Point, Maui by CP in August, 1989.



Photo:

CP: 2.1 mm: Hekili Point, Maui; March 19, 2005.



Observations and comments:



Note 1: Shells of this species show moderately strong red fluorescence under ultraviolet light (395 nM), most prominently when worn.