_______________



Additional Photos



underside

texture
2nd animal

3rd animal

shell


Lamellaria(?) sp. #4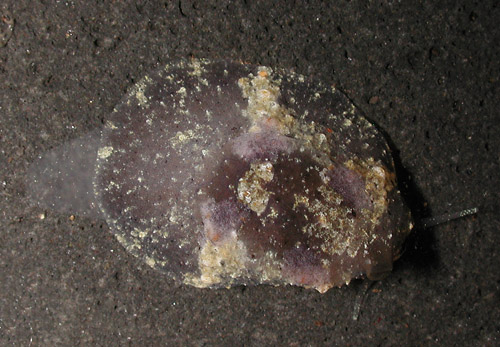 Maximum size:

19 mm.



Identification:

This is a relatively large, grayish species that is similar in its markings and tubercles to

Lamellaria

sp. #1. However, its shell has a noticeably higher apex than the shell of that species. It also differs from it in its soft (almost gelatinous) texture and in having a foot that extends well behind the margin of the mantle when it crawls. (Note 1)



Natural history:

Lamellaria

(?) sp. #4 is known from at least three animals found in

Halimeda kanaloana

beds at 6-9 m (20-30 ft). It sometimes jerks rhythmically while crawling.



Distribution:

Maui.



Taxonomic notes:

It was first recorded in Hawaii from Maalaea Bay, Maui by PF on May 5, 2008. Considering the differences in shell and texture there's some question whether it will ultimately be placed in Lamellaria.



Photo:

CP: 19 mm: Kenolio Park, Maui; Dec. 5, 2014.



Observations and comments:



Note 1: The 2008 animal died before it could be photographed. When found, we thought it was a variant of

Lamellaria

sp. #1 but the shell proved to be different when extracted. The size, general color, texture and habitat of the 2014 animal match our recollection of the previous one. However, it will take extraction of another shell to make the match completely certain.