_______________



Additional Photos






Mexichromis(?) sp. #3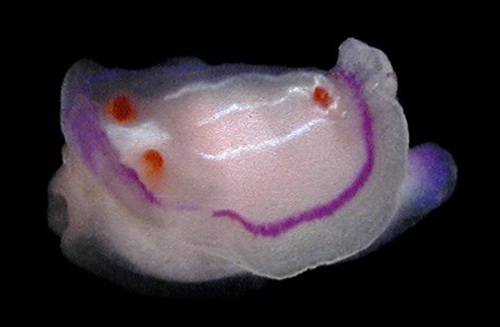 Maximum size:

5 mm.



Identification:

This dorid is translucent-white with three longitudinal white lines on the notum. A magenta line encircles the body inside the mantle margin. (Note 1)



Natural history:

Mexichromis

(?) sp. #3 is known from a single animal found outside the reef at Midway between 12 and 25 m (40 and 83 ft).



Distribution:

Midway.



Taxonomic notes:

The genus of this species is uncertain. However, three light dorsal lines are found in several species moved to

Mexichromis

in Johnson & Gosliner, 2012. It was first recorded in Hawaii from Midway Atoll by PF in 1993.



Photo:

PF: Midway Atoll; 1993.



Observations and comments:



Note 1: The animal had begun to deteriorate before it could be photographed, so its posture isn't accurate.