_______________



Additional Photos



side

head shield

eye spot

2nd animal


Noalda sp. #1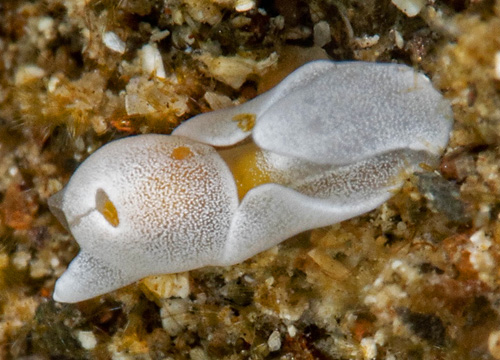 Maximum size:

about 10 mm.



Identification:

This species has a translucent-cream body densely flecked with opaque white. It has a thin, largely internal shell. A dorsal foramen in the posterior portion of the mantle reveals part of the shell. There's a blunt "tail" on the right side.



Natural history:

Noalda

sp. #1 is known from two animals, one found on sand at about 6 m (19 ft) and the other on algal turf at about 10 m (33 ft). Both were actively crawling, by day, at moderately exposed sites.



Distribution:

Maui and Oahu: may be widely distributed in the Indo-Pacific. (Note 1)



Taxonomic notes:

This species is very similar to "Noalda sp. 1" in Gosliner, et. al. (2018). It was first recorded in Hawaii from the west shore of Oahu by Roney Rodrigues and Damaris Torres-Pulliza on Sept. 3, 2022.



Photo:

Rebecca Bicker: 4-5 mm: Maliko Bay, Maui; Sept. 8, 2022.

Observations and comments:

Note 1: Assuming it's the same as "Noalda sp. 1" in Gosliner, et. al. (2018)--DNA could split them.