_______________



Additional Photos



side

underside

rhinophores

possible food sponge?

with egg mass
_______________


GALLERY


Phyllidiopsis cardinalis Bergh, 1875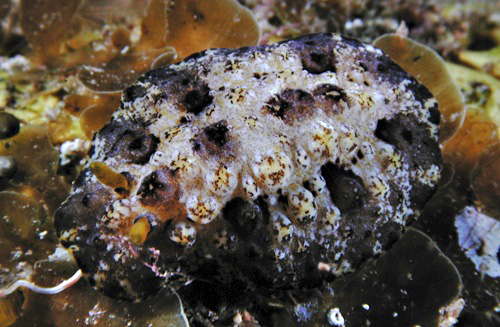 Maximum size:

40 mm.



Identification:

This species has a dirty-yellow notum mottled with cream and brown. The compound tubercles are arranged longitudinally in three main rows and usually have more brown pigment than the remainder of the notum. The foot is brilliant yellow as are the fused oral tentacles.



Natural history:

Phyllidiopsis cardinalis

is moderately common and is the only Hawaiian phyllidiid known to be nocturnally active. During the day, it is usually found under rocks in moderately protected to moderately exposed locations from 4-52 m (13-170 ft). It has also been found in tide pools and has been observed on tan and bright yellow sponges. (Note 1) It lays a cream, spiral egg mass with the ribbon attached on its side.



Distribution:

Big Island, Maui, Oahu, French Frigate Shoals and Kure: widely distributed in the Indo-Pacific.



Taxonomic notes:

This species is illustrated in Bertsch and Johnson, 1981 as the top photo on page 39 (mislabeled as

Carminodoris grandiflora

). It was first recorded in Hawaii at Makua, Oahu by Scott Johnson on March 10, 1978.



Photo:

Mike Severns: Molokini Islet, Maui; May 4, 1989.



Observations and comments:



Note 1: A sponge that may show some feeding damage was found next to an animal and its egg mass. Although feeding wasn't observed, the sponge's color matched the color of the animal's underside and its surface texture matched the animal's dorsal surface. That suggests that it may be a food species.