_______________



Additional Photos



faded

side

front


Stiliger sp. #6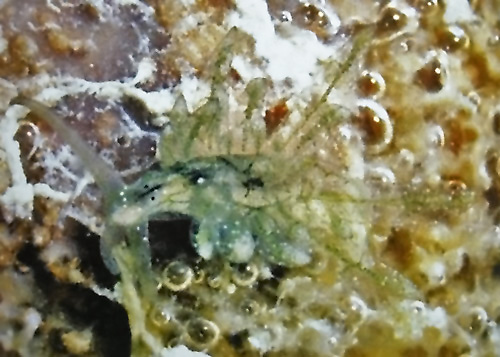 Maximum size:

8 mm (Gosliner, et. al., 2008)



Identification:

This is a slender species with long, spindle-shaped cerata and very long rhinophores. The body, cerata, rhinophores and cephalic tentacles are variously decorated with white flecks. The tips of the cerata and rhinophores are frosted with gray and there is an interrupted, dark line running down the center of the notum. Branches of the digestive gland run throughout the body, down the centers of the cerata and along the ventral margins of the rhinophores. Fine, irregular lateral branches of the digestive gland are present in the cerata. (Note 1)



Natural history:

Stiliger

sp. #6 is known from two animals found at highly protected sites. The 2nd was found at about 3 m (10 ft).



Distribution:

Oahu and the Big Island: also known from Okinawa.



Taxonomic notes:

It was first recorded in Hawaii from Kaneohe Bay, Oahu by Terry Gosliner.



Photo:

Terry Gosliner: Kaneohe Bay, Oahu.



Observations and comments:



Note 1: There's some chance that the unusual color shown in the "faded" image may be due to fading of the slide or other photographic artifact rather than to changes in the animal.