_______________



Additional Photos



side

underside

head

rhinophores

cerata

young

probable egg mass


Stiliger sp. #6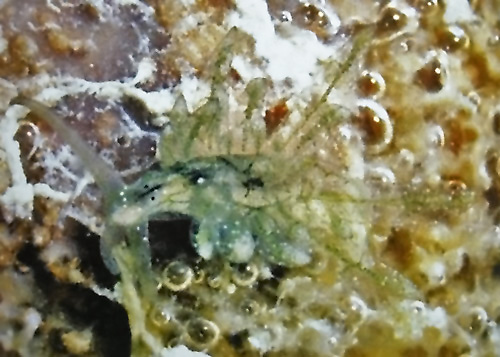 Maximum size:

about 10 mm.



Identification:

This is a slender species with long, spindle-shaped cerata and very long rhinophores. The body, cerata, rhinophores and cephalic tentacles are variously decorated with iridescent-white flecks and sub-dermal cream spots. The tips of the larger cerata and rhinophores are frosted with gray. There is a diffuse, dark gray-green line between the eye spots and diffuse, dark gray-green patches on the central notum as well as a translucent white patch on the pericardium. Branches of the digestive gland run throughout the body, down the centers of the cerata and along the ventral margins of the rhinophores. In older animals, the dark markings may become less pronounced and the branches of the digestive gland more elaborate.



Natural history:

Stiliger

sp. #6 was known from only two animals prior to Oct., 2022 (one each from the Big Island and Oahu). Those two were found at highly protected sites. However, 15+ animals were recently found at a moderately exposed site on Maui. Depths ranged from 3-6 m (10-20 ft). The Maui animals were in filamentous algae (probably a Cladophora sp.) on which they were probably feeding. It readily autotomizes its large central cerata. (Note 1) It probably lays a white, slightly arced egg mass.



Distribution:

Big Island, Maui and Oahu: also known from Okinawa and Bali.



Taxonomic notes:

It was first recorded in Hawaii from Kaneohe Bay, Oahu by Terry Gosliner in the 1970s.



Photo:

Terry Gosliner: Kaneohe Bay, Oahu; 1970s.



Observations and comments:



Note 1: The sub-dermal cream spots in the tips of its cerata appear to have ducts connecting to the surface suggesting that they may be glands, perhaps secreting defensive chemicals. Meanwhile, the small, dense-green spots on the lateral cerata (that aren't typically autotomized) are suggestive of retained chloroplasts that may be contributing to it's nutrition.