_______________



Additional Photos


side

underside

rhinophores

young

color variant

on food sponge

mating

egg mass

veligers
_______________


GALLERY


Thorunna daniellae (Kay & Young, 1969)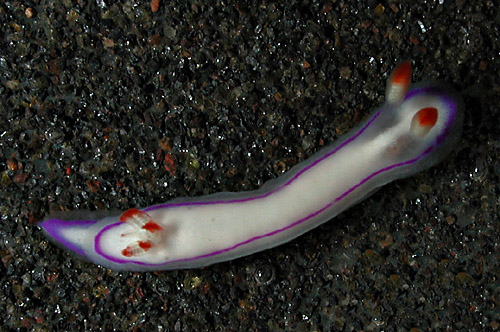 Maximum size:

about 25 mm (Hoover, 2006).



Identification:

The body of this small, slender nudibranch is opaque white with a magenta line (sometimes interrupted) encircling the notum just inside the mantle margin. The rhinophore stalks are translucent, with the clubs orange-red on the anterior side and opaque white on the posterior side. The gills are opaque white with orange-red tips. In very young animals, the notum is translucent and has a herringbone pattern of embedded white spicules beginning between the rhinophores and ending at the gills. It may be distinguished from Thorunna kahuna by the lack of prominent opaque-white mantle glands around the posterior margin. It also has an opaque white (rather than translucent pink) notum when mature and a boundary between the orange and white pigment on the rhinophores that is angled rather than straight.



Natural history:

Thorunna daniellae

is a moderately common diurnal species found on rocky bottoms. It occurs at moderately exposed to highly exposed locations from 5-27 m (16-90 ft) and vibrates its gills. It lays a pale-peach to cream egg mass that hatches in four to six days in the laboratory and flattens its branchia while mating. It appears to feed on a variety of sponges. (Note 1)



Distribution:

Big Island, Maui, Oahu, Kauai, Niihau, Midway and Kure: widely distributed in the Indo-Pacific.



Taxonomic notes:

This species was listed as

Hypselodoris daniellae

in Kay, 1979, Kay & Young, 1969 and Kay & Schoenberg-Dole, 1991. It was named for malacologist Danielle Fellows. It's referred to as "Danielle's

Thorunna

" in Hoover, 1998 and as "Danielle's nudibranch" in Hoover, 2006. It was first reported in Hawaii from Ala Moana, Oahu in March, 1962 (Kay & Young, 1969).



Photo:

CP: 8 mm: near McGregor Point, Maui; Oct. 9, 2003.



Observations and comments:



Note 1: Four of five animals associated with a pink sponge in i-Nat photos had interrupted submarginal lines. The 5th was a "normal" animal paired with one of the others. Although segregation by food might suggest a cryptic split, the latter case would argue against it...