_______________



Additional Photos



side

underside

front

interior

large, pale

swimming


Aplysia reticulata Eales, 1960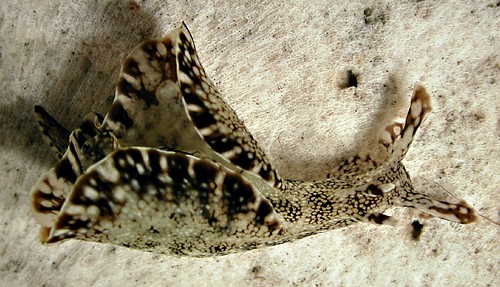 Maximum size:

about 100 mm.



Identification:

This sea hare is a cream animal densely reticulated with brown lines and blotches that become larger near the edges of the parapodia, rhinophores and cephalic tentacles.



Natural history:

Aplysia reticulata

is a rare species reported from the outer face of solution benches and fringing reefs. (Watson, 1973) It's been found in Halimeda kanaloana beds at 7 m (24 ft) but also in as little at 1 m (3 ft) (Hoover, 1998). In addition, it may be found on floating debris in open water. Unlike other Hawaiian

Aplysia

spp., it can swim by flapping its parapodia. (Note 1)



Distribution:

Maui, Oahu and Kauai: may be more widely distributed in the western & central Pacific. (Note 2)



Taxonomic notes:

It's listed as Aplysia pulmonica Gould, 1852 in Kay, 1979 as well as Hoover, 1998 & 2006 (changed to "Aplysia sp." in 2019 printing). It's referred to as the "pulmonate sea hare" in Hoover, 1998 & 2006. It was formerly listed as "Aplysia sp. #1" and is the same as "Aplysia sp." on page 389 in Gosliner, et. al., 2018. (Note 3)



Photo:

PF: 35 mm: found on drifting net; off Makena, Maui; Sept. 8, 1999.

Observations and comments:

Note 1: To see a video of one swimming (by Anuschka Faucci) go here.

Note 2: Some animals illustrated on the Sea Slug Forum (and elsewhere) as Aplysia kurodai (Baba, 1937) or A. pulmonica may be this species.

Note 3: ID provided by Matt Nimbs.