_______________



Additional Photos



top

underside

protoconch

bright

on black

feeding

secretion

shell


Berthelinia pseudochloris Kay, 1964a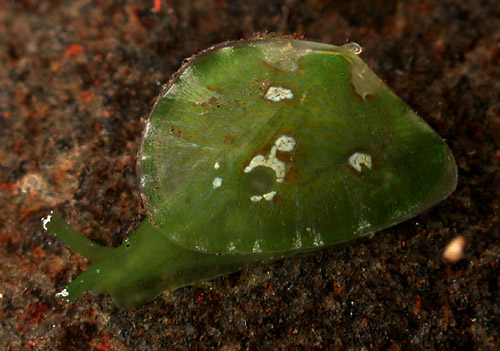 Maximum size:

8 mm.



Identification:

This species is strongly laterally compressed (in contrast to the

Julia

spp.). It has a nearly transparent yellow-white shell with a curved dorsal margin and the animal is green, flecked with white. A variable pattern of blue-white lines and patches shows through the shell.



Natural history:

Berthelinia pseudochloris

is a rare species found in moderately exposed to highly exposed rocky areas on algae of the genus

Caulerpa

on which it feeds. (Note 1) The five animals we've seen were at depths of < 1 to 3 m (< 3 to 10 ft). Like some other sacoglossids, it releases a milky secretion when disturbed.



Distribution:

Maui, Oahu, Kauai and French Frigate Shoals.



Taxonomic notes:

It was first recorded in Hawaii from Koloa, Kauai by Allison Kay on Nov. 25, 1961. (Kay, 1964b)



Photo:

CP: 6 mm: found by PF; Honokowai Beach Park, Maui; Oct. 9, 2010.



Observations and comments:



Note 1: On June 13, 2013 we observed a large animal feeding on a small form of Caulerpa racemosa(?) in a holding dish. It had previously ignored a small piece of Caulerpa serrulata.