_______________



Additional Photos



2nd animal

fecal pellets


Coriocella nigra Blainville, 1824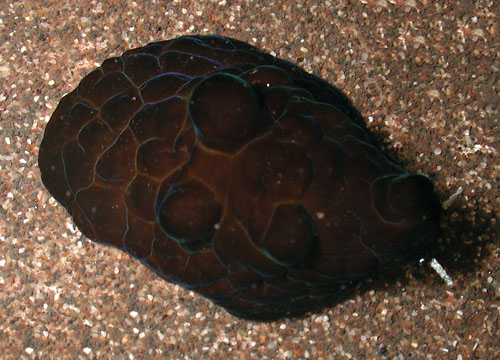 Maximum size:





Identification:

This is a large, black species covered with broad tubercles. The cephalic tentacles are speckled with white. All known Hawaiian animals show this coloration although the species appears to be more variable elsewhere in the Pacific.



Natural history:

On Maui,

Coriocella nigra

is a rare species known from two animals found in moderately protected to moderately exposed rocky habitats at a depth of 1-4 m (3-13 ft). However, it may be more common in

Halimeda kanaloana

beds at French Frigate shoals. It produces layered, oval fecal pellets. (Note 1)



Distribution:

Maui and French Frigate Shoals: widely distributed in the Indo-Pacific.



Taxonomic notes:

It was probably first recorded in Hawaii at French Frigate Shoals during cruises prior to 2006. Due to the more limited color range found in Hawaii, there's some chance that the Hawaiian population might be distinct.



Photo:

CP: Kapalua Bay, Maui; May 22, 2008.



Observations and comments:



Note 1: The granular layers in the fecal pellets (see photo) appear to be composed of compacted spicules from didemnid tunicates suggesting that the species feeds on that group in Hawaii.