_______________



Additional Photos



underside

lightly blotched

intermediate

young, 5.5 mm
_______________


GALLERY


Geitodoris sp. #1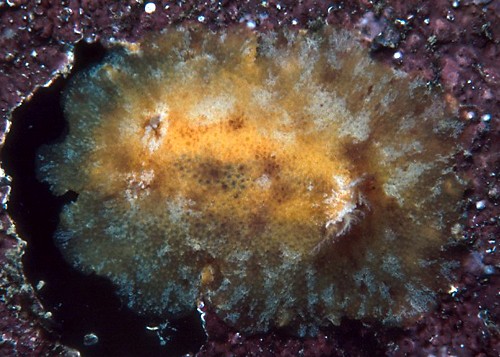 Maximum size:

about 32 mm.



Identification:

This is a flat species with low, even papillae. The notum is light to dusky yellow, variably blotched with cream and brown. The rhinophores are cream flecked with brown and frosted with white. The branchia are yellow variably flecked with reddish brown and white. (Note 1)



Natural history:

Geitodoris

sp. #1 is known on Maui from only three small animals found in the low intertidal at a protected rocky site. However, Scott Johnson reports it as fairly common at 10-15 m (33-49 ft) at a highly exposed rocky site on Oahu. It feeds on the black sponge,

Tethya

(Bertsch and Johnson, 1981). One of the Maui animals laid a yellow egg mass with a ribbon that had a circular cross section.



Distribution:

Maui, Kauai and Oahu.



Taxonomic notes:

This is the species listed as "yellow dorid" on page 42 in Bertsch and Johnson, 1981. It was first recorded in Hawaii at Pupukea, Oahu by Scott Johnson on July 9, 1979.



Photo:

Scott Johnson: about 32 mm: heavily blotched: Pupukea, Oahu; Aug. 19, 1985.



Observations and comments:



Note 1: There is some possibility that lightly blotched, yellow animals might be a second species. However, the overall form as well as the structure of the branchia, rhinophores and papillae appear to support lumping. On the other hand, the difference is probably not solely related to age since the very small animals from Maui were heavily blotched. More photos of the yellow form can be seen at Scott Johnson's site.