_______________



Additional Photos



side

contracted

young

more brown


Halgerda dalanghita Fahey & Gosliner, 1999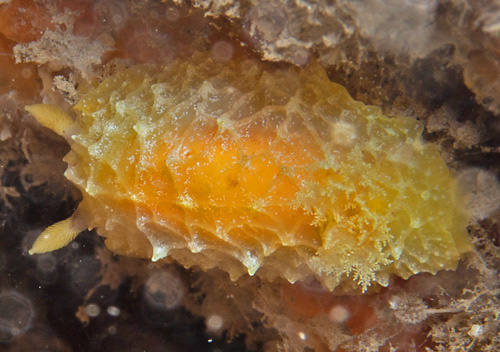 Maximum size:

( )



Identification:

The notum of this species has a network of low ridges decorated with white flecks. The background color is yellow sparsely flecked with brown. The rhinophores are cream sometimes with faint brown blotches and the branchia are cream variably flecked with brown and white.



Natural history:

Halgerda dalanghita

is a rare species known from only a few animals found in exposed to highly exposed rocky habitats. The Kauai animal was found at about 8 m (25 ft).



Distribution:

Big Island, Maui, Oahu and Kauai: widely distributed in the Indo-Pacific.



Taxonomic notes:

It was first recorded in Hawaii at Pupukea, Oahu by Scott Johnson on June 19, 1978. (Note 1)



Photo:

Scott Johnson: Makua, Oahu.?



Observations and comments:



Note 1: There's some question whether all the illustrated animals should be lumped as one species. If more than one species is included, it's probably the animal labelled "contracted" that doesn't belong with the others.