_______________



Additional Photos



underside

side

heavily spotted

young, 5 mm

rolled

on tunicate


Lamellaria(?)

sp. #10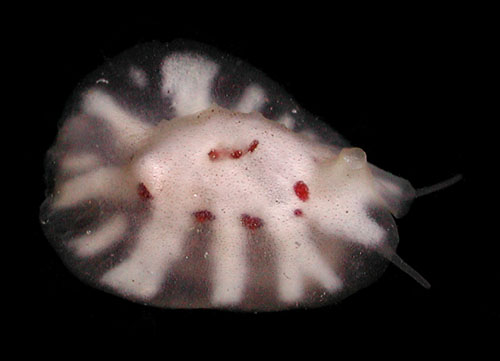 Maximum size:

18 mm.



Identification:

This is a flattened, translucent species with a finely papillate dorsal surface. The dorsum is decorated with variably developed radiating bands of opaque-white and variably developed blood-red patches. The edges of the patches often have a few contrasting white flecks and the papillae are faintly tipped in violet-brown. In some animals dendritic brown lines are present in the lateral red spots. There are a few variably developed, translucent tubercles in the center of the dorsum.



Natural history:

The only

Lamellaria

(?) sp. #10 we've found on Maui was on a waxy, white tunicate on which it was well camouflaged (and, possibly feeds?). It was under a rock in a highly protected rocky habitat at 3-5 m (10-16 ft). In contrast, it appears to be fairly common in protected, rocky habitats on Oahu. Unlike most other Hawaiian velutinids, it temporarily roles it's mantle into a tube when it's overturned.
.


Distribution:

Maui and Oahu: may also be found in the Marshall Islands.



Taxonomic notes:

It was first recorded in Hawaii from Kahului Harbor, Maui by CP on April 8, 2010. (Note 1)



Photo:

CP: 15 mm: Kahului Harbor, Maui; April 8, 2010.



Observations and comments:



Note 1: Originally, we tentatively assigned this species to Marsenina because of its superficial similarity to some photos of the west coast species, Marsenina stearnsii. However, it lacks the dorsal pore characteristic of that species.