_______________



Additional Photos



side

front

dark

large


Lamellaria

sp. #3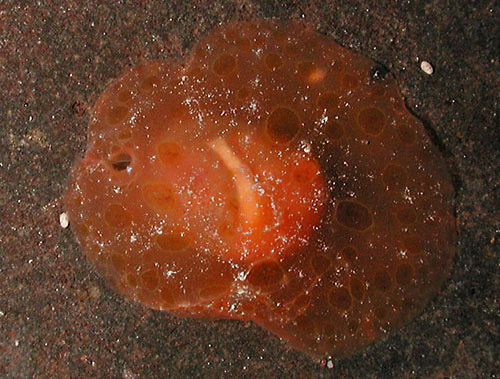 Maximum size:

25 mm.



Identification:

This species is similar to

Lamellaria

sp. #1. However, it has large spots on its dorsum surrounded by lighter rings. The spots have variable amounts of darker pigment in their centers.



Natural history:

Lamellaria

sp. #3 is known from five animals found in moderately exposed rocky habitats at a depth of 3-9 m (10-30 ft) and in Halimeda kanaloana beds.



Distribution:

Maui and Oahu.



Taxonomic notes:

There is some uncertainty in separating this species from other listed species of Lamellaria. (Note 1) It was first recorded in Hawaii from Maliko Bay, Maui by CP on April 19, 2008.



Photo:

CP: Maliko Bay, Maui; April 19, 2008.



Observations and comments:



Note 1: Although we're including it with this species based on the presence of pale rings surrounding brown spots, the identity of the large animal from Kaneohe Bay (see photo) is somewhat ambiguous. Its rings are less well defined, smaller and more evenly spaced than in the other examples. It also has a scabrous central cross-bar, a characteristic more common in Lamellaria sp. #1 (though that species typically also has a broken, anterior cross-bar that it lacks). In addition, the dorsum shows cloudy, internal masses (something that isn't present in the other specimens of this species though it may occur in multiple species in the family).