_______________



Additional Photos



side

rhinophores

gizzards
swimming

with algae


Melibe
sp. #1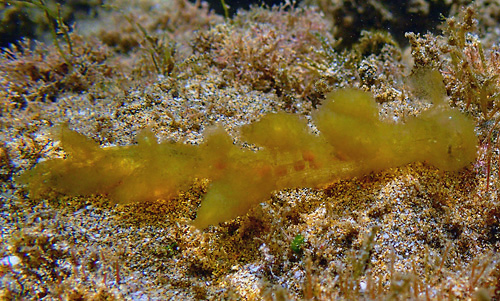 Maximum size:

about 90 mm.



Identification:

This is a semi-translucent, golden-brown species with a small oral hood. The cerata are spindle-shaped with densely tuberculate surfaces and a few short, irregularly branching apical processes. The apical processes are decorated with brown and cream flecks. The rhinophore crests are broad and largely transparent with a few golden-brown flecks. The gizzards are light brick-red and there are short processes on the body. Faint brown patches may be visible on the body and cerata when they are flexed for swimming.



Natural history:

Melibe sp. #1 is known from a single animal found in a wave-washed tide pool in Maalaea Bay at a depth of < 1 m (< 3 ft). It appears very similar to the algae it was found with. (Note 1)



Distribution:

Maui. perhaps, known from Indonesia?



Taxonomic notes:

It may be the species listed as "Melibe sp. #1" in Gosliner, et. al. (2018). However, the processes are shorter and the rhinophore crests larger in the Hawaiian animal. It was first recorded in Hawaii from Maalaea Bay, Maui by Karolle Wall on Feb. 9, 2019.



Photo:

Karolle Wall: about 90 mm: Maalaea Bay, Maui; Feb. 9, 2019.



Observations and comments:



Note 1: Perhaps, this species is mimicking the algae (Chrysonephos lewisii?) shown next to it in this photo?