_______________



Additional Photos



underside

young

dark cerata
_______________


GALLERY


Noumeaella rehderi Marcus, 1965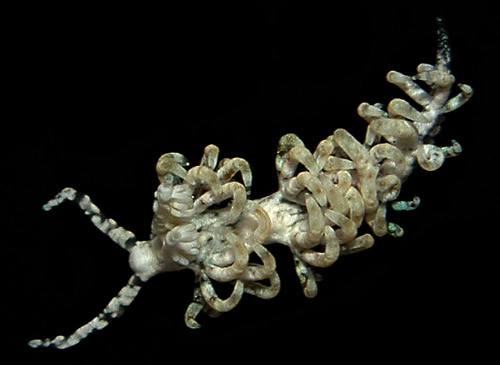 Maximum size:

11 mm (Kay, 1979).



Identification:

This species has a mottled cream to mottled brown body with slender cerata. (Note 1) The rhinophores have long, closely spaced papillae on their posterior edges.



Natural history:

Noumeaella rehderi

is a common (though rarely seen) nocturnal species found in highly protected to exposed rocky habitats from the low intertidal to depths of 6 m (20 ft). However, it's most common at about 1 m (3 ft) at protected sites. It's rare in

Halimeda kanaloana

beds at depths up to 8 m (26 ft). It lays a white, spiral egg mass that hatches in about three days in the laboratory.



Distribution:

Big Island, Maui, Oahu and Midway: widely distributed in the Indo-Pacific; also in eastern Pacific.



Taxonomic notes:

This species is listed as

Noumeaella

cf.

rehderi

in Kay, 1979 and Gosliner, 1979. It was first recorded in Hawaii from Keauhou Bay, Big Island by Terry Gosliner on Sept. 3, 1973.



Photo:

CP: 4 mm; Hekili Point, Maui; March 23, 2007.



Observations and comments:



Note 1: We've observed light and dark animals copulating with each other in dishes.