_______________



Additional Photos



faded


Stiliger sp. #6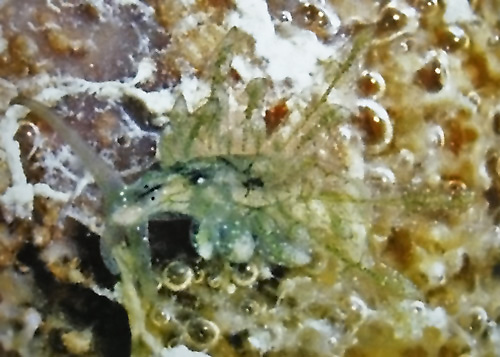 Maximum size:

8 mm (Gosliner, et. al., 2008)



Identification:

This is a slender species with long, spindle-shaped cerata and very long rhinophores. The cerata have a few white flecks on their tips while the center of the notum and the rhinophore tips are frosted with violet-gray. (Note 1)



Natural history:

Stiliger

sp. #6 is known from a single animal found at a highly protected site.



Distribution:

Oahu: also known from Okinawa.



Taxonomic notes:

It was first recorded in Hawaii from Kaneohe Bay, Oahu by Terry Gosliner.



Photo:

Terry Gosliner: Kaneohe Bay, Oahu.



Observations and comments:



Note 1: There's some chance that the unusual color shown in the "faded" image may be due to fading of the slide or other photographic artifact rather than to changes in the animal.