_______________



Additional Photos



underside

white spotted

young

egg mass
_______________


GALLERY


Tenellia
sp. #22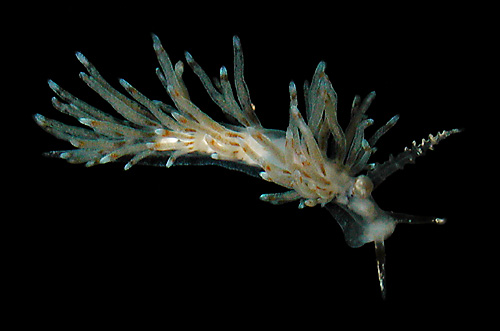 Maximum size:

7 mm.



Identification:

The head and body of this aeolid are translucent-white. The cerata are translucent-white with partial, orange-brown subapical bands and white tips. The ceratal core is darker basally, often appearing as a second orange-brown spot. The rhinophores are translucent-white with semicircular annulations. The cephalic tentacles have tips that are flecked with opaque white. The more slender and more numerous cerata, lack of white patches on the central notum (in typical animals), lack of solid white tips on the cephalic tentacles and central appearance of the basal red-orange ceratal patches distinguish it from Tenellia pinnifera. (Note 1)



Natural history:

Tenellia

sp. #22 is a moderately rare aeolid that occurs in moderately protected to moderately exposed rocky habitats from < 1 to 34 m (< 3 to 110 ft). It lays a white egg mass of about one whorl.



Distribution:

Maui and Midway.



Taxonomic notes:

It was first recorded in Hawaii from Midway Atoll by Terry Gosliner and PF in June, 1993 and was formerly placed in the genus Cuthona.



Photo:

CP: 6 mm: Mala Wharf, Maui; April 27, 2005.



Observations and comments:



Note 1: The Midway animal (see photo) is atypical in having faint patches of white pigment on the notum and the central portions of the cerata. However, it appears to group more closely with this species than with C. pinnifera due to its slender cerata and other aspects of its coloration. Of course, there's some chance that it could ultimately fall on the "other side of the split." Also, we might wind up "re-lumping" the two species if future DNA work should falsify our current interpretation.