_______________



Additional Photos



underside

side

small tubercles

dark

young, 3 mm
_______________


GALLERY


Elysia sp. #7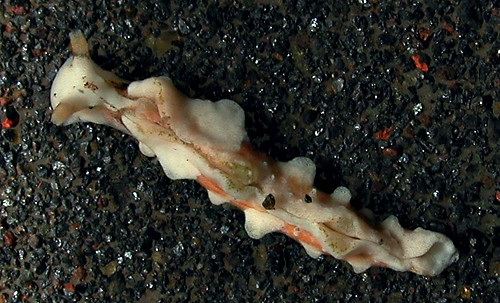 Maximum size:

8 mm.



Identification:

This is a small species with low parapodia that usually form two chimneys. The body is cream with peach patches and there are often irregular black patches on the sides of the head. Irregular patches of black pigment may also be present on the sides of the parapodia. It's distinctive in having large, though variable, downward-sloping tubercles on the sides of the parapodia. (Note 1)



Natural history:

Elysia

sp. #7 is a moderately common plakobranchid that is found on rocky bottoms in moderately protected to moderately exposed locations at depths of < 1 to 5 m (< 3 to 17 ft). It jerks its parapodia intermittently while crawling.



Distribution:

Big Island, Maui and Oahu: possibly known from Madagascar.



Taxonomic notes:

It was first recorded in Hawaii from Maluaka, Maui by CP on Nov. 15, 1995.



Photo:

CP: 7 mm; large tubercles, light: Hekili Point, Maui; June 3, 2003.



Observations and comments:



Note 1: Although speculative, the distribution on Maui suggests that animals with larger tubercles may occur in areas with higher surge. Perhaps, they enlarge during development in response to hydrological stress?