_______________



Additional Photos



2nd view

branchia

rhinophores

margin

young

progressive feeding


Mexichromis pusilla (Bergh, 1874)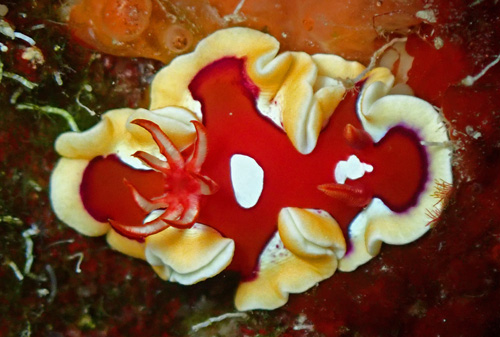 Maximum size:

about 10 mm (somewhat contracted). (Note 1)



Identification:

The notum of this species is dominated by a broad, six-lobed, brick-red band surrounding two white mid-dorsal patches. There is a broad, cream marginal band with a diffuse, violet inner edge and a few diffuse, violet spots in its inner portion. The violet edging becomes more diffuse on the outer edges of the lobes. The rhinophores are orange and the branchia white, edged with orange.



Natural history:

Mexichromis

pusilla is known from two animals. The mature, Oahu animal was found under a ledge at 15 m (50 ft). The juvenile from Maui was found on a ledge at a moderately exposed site at a depth of 4 m (13 ft). It probably feeds on a red, encrusting sponge. (note 2)



Distribution:

Maui and Oahu: widely distributed in the Indo-Pacific.



Taxonomic notes:

The diffuse, purple spots in the inner portion of the marginal band suggest some genetic distance between the Hawaiian population and populations found elsewhere in the Indo-Pacific. It was first recorded in Hawaii from Ewa Beach, Oahu by Katie Samuelson on Oct. 5, 2022. Some older sources list it as Durvilledoris pusilla.



Photo:

Katie Samuelson: about 10 mm (somewhat contracted): Ewa Beach, Oahu; Oct. 5, 2022.



Observations and comments:



Note 1: The photographed animal was in a feeding (or resting?) posture. When stretched out and crawling, it would probably have been 15-20 mm in length.

Note 2: Assuming it's feeding, the close match in hue between its notum and the sponge might suggest that it's retaining pigments from its food.