_______________



Additional Photos



underside

side

irregular ridges

feeding


Phyllidiella rosans (Bergh, 1873)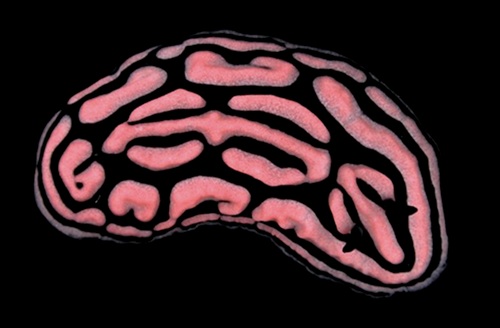 Maximum size:

about 38 mm (Hoover, 2006).



Identification:

This species has a black notum with 5-7 smooth, longitudinal, pink ridges that may be continuous or interrupted. In all or most Hawaiian animals, the three central ridges coalesce to form complete or partial rings in the center of the notum. (Note 1) The mantle is edged in pink. The rhinophores are black.



Natural history:

This is a rarely-seen phyllidiid that has been found in the open in rocky areas as well as inside caverns. It lives in moderately protected to highly exposed habitats from 5-37 m (16-120 ft). Scott Johnson reports it feeding on an yellow sponge.



Distribution:

Big Island, Maui, Lanai, Oahu, Kauai and Niihau: widely distributed in the Indo-Pacific.



Taxonomic notes:

This is the species illustrated as

Phyllidia

sp. and listed as

Phyllidia nigra

Pease, 1868c in Kay, 1979 (the photo of the latter is probably of

Phyllidiopsis sphingis

). It is referred to as the "rosy Phyllidia" in Hoover, 1998 & 2006.



Photo:

PF: 16 mm: Makena, Maui; Nov. 1989.



Observations and comments:



Note 1: Since

P. rosans

from elsewhere in the Indo-Pacific lack this feature, there's some chance that the Hawaiian population may prove to be endemic when DNA is examined.