_______________



Additional Photos



underside

side

rhinophores

branchia

dark

pale

trailing


Platydoris formosa (Alder & Hancock, 1864)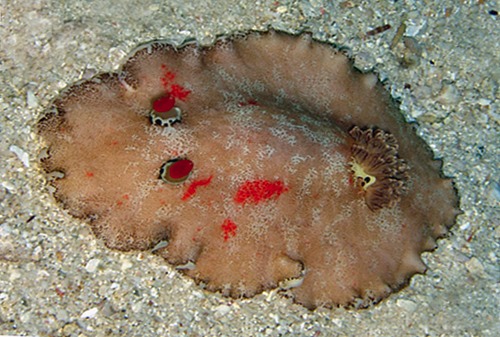 Maximum size:

about 150 mm.



Identification:

This is a flattened, firm-textured, cream dorid intricately flecked with light brown. The light brown flecks transition to dark brown on the rhinophore sheaths and the margin of the notum. The rhinophores are red and there are red blotches on the underside. Some animals also have red blotches on the notum.



Natural history:

Platydoris formosa

is a moderately rare species found in tide pools and subtidally to 20 m (66 ft) at moderately exposed to highly exposed rocky sites. Mature animals sometimes trail each other in a manner reminiscent of

Hypselodoris imperialis

. (Note 1) It lays a pale orange egg mass that hatches in about eight days in the laboratory.



Distribution:

Big Island, Maui, Oahu and Kauai: widely distributed in the Indo-Pacific.



Taxonomic notes:

This species is referred to as the "speckled platydoris" in Hoover, 1998 & 2006 (deleted in 5th printing and restored in 2019 printing). It was first reported in Hawaii from Ala Moana, Oahu in Dec., 1961 (Kay & Young, 1969).



Photo:

Andy Schwanke: Molokini Islet; May, 2005.



Observations and comments:



Note 1: A pair of large animals found together appeared to show trailing behavior in a holding bucket. Scott Johnson also observed trailing in the field on June 2, 1984 off Makua Beach, Oahu as did Rebecca Bicker on Maui in May, 2021 (see photo).