_______________



Additional Photos


dark

cerata autotomized


Costasiella

formicaria

(Baba, 1959)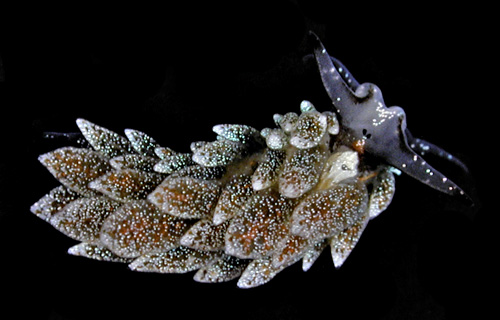 Maximum size:

( )



Identification:

This animal has a cream body frosted with dusky gray and flecked with white. The gray pigment is densest on the edges of the rhinophores and head but varies in intensity and distribution. In all animals, it forms a transverse line just behind the closely spaced eye spots. The branches of the digestive gland in the cerata range from olive green to golden brown, again with variation in intensity. (Note 1)



Natural history:

Costasiella formicaria

is a rare species known from three animals found in highly protected to moderately exposed locations. The one Maui animal came from a moderately exposed rocky area at 3-7 m (10-28 ft). Its cerata are readily autotomized.



Distribution:

Maui, Oahu and Midway: also known from Japan.



Taxonomic notes:

It was first recorded in Hawaii from Kaneohe Bay, Oahu by Terry Gosliner.



Photo:

PF: Midway Atoll; May 30, 1993.



Observations and comments:



Note 1: There's some chance that the unusual color shown in the "dark" image may be due to fading of the slide or other photographic artifact rather than to differences in the animal.