_______________



Additional Photos


side

underside

mantle lobes

feeding

egg mass

shell
_______________
GALLERY


Lobiger

viridis

Pease, 1863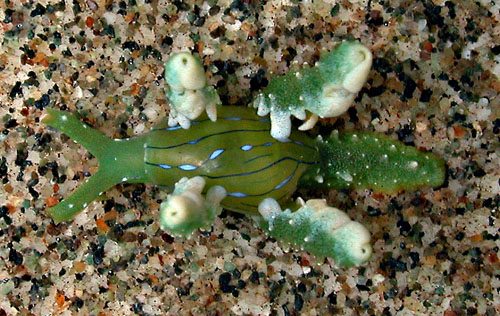 Maximum size:

32 mm.



Identification:

This distinctive species is brilliant green with elongate, frilled lobes projecting from the edges of its parapodia. Bright blue spots connected by dark blue-green lines show through its transparent shell.



Natural history:

Lobiger

viridis

is a rarely seen species found in tide pools and shallow rocky habitats at depths of < 1 to 6 m (< 3 to 20 ft) where it is associated with various algae of the genus

Caulerpa

. It is found in protected to exposed locations. Mature animals are diurnally active but may remain in the open when resting at night. When disturbed, they "flare" the mantle lobes, presumably to elicit a startle response in predators, and may autotomize the lobes. They can also emit a milky fluid. We have observed them feeding on

Caulerpa taxifolia

,

Caulerpa ceratularioides

,

Caulerpa serrulata

and the large form of

Caulerpa racemosa

in dishes. (Note 1) The egg mass is a tightly coiled, cream spiral and the eggs hatch in about five days in the laboratory.



Distribution:

Maui, Oahu and Midway: widely distributed in the Indo-Pacific



Taxonomic notes:

It's listed in Kay, 1979 as Lobiger souverbii Fisher, 1856 but that name has now been restricted to the Caribbean population.



Photo:

CP: 8.5 mm: Hekili Point, Maui; Oct. 7, 2002.



Observations and comments:



Note 1: A captive animal with a shell length of 1.8 mm and a missing mantle lobe regenerated the lobe and grew to a shell length of 5.2 mm in 60 days. It was fed primarily on

Caulerpa serrulata

.