_______________



Additional Photos



underside

rhinophores

pale

dark

young, 1.8 mm

on food sponge

mating?

egg mass
_______________


GALLERY


Geitodoris sp. #3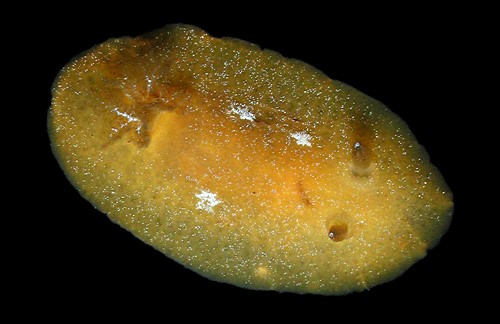 Maximum size:

21 mm (estimated to 35 mm in field).



Identification:

This is a moderately soft, papillate species that ranges from pale cream to orange. Dark pigment forms leopard-like spots on the notum but varies in intensity. The notum and rachis are variably flecked with white and one to four white patches may be present on the sides of the notum. (Note 1) The rhinophores have small white tips.



Natural history:

Geitodoris

sp. #3 is a common dorid found in the low intertidal at protected to moderately exposed locations. Occasionally, it may also be found subtidally to depths of 1 m (3 ft). Large animals sometimes "vibrate" their rhinophores rhythmically while crawling. It feeds on a peach-colored encrusting sponge and lays an orange egg mass with a variably ruffled edge. The eggs hatch in about six days in the laboratory.



Distribution:

Maui, Oahu and Kauai: probably known from Japan.



Taxonomic notes:

This appears to be the species listed as

Thordisa hilaris

Bergh, 1905 in Kay, 1979, Kay & Young, 1969 and Bertsch & Johnson, 1981. It was first reported in Hawaii from Fort Kamehameha, Oahu in July, 1962 (Kay & Young, 1969). It may ultimately turn out to be something other than a Geitodoris sp.



Photo:

CP: 21 mm; Hekili Point, Maui; Nov. 7, 2006.



Observations and comments:



Note 1: We've observed animals with and without obvious spotting paired with each other in the field. Of particular note was a pair observed on Oct. 8, 2010 at Hekili Point. One of the animals was light tan with lateral white patches and obvious dark flecks. The other was larger, dark yellow-orange and without lateral white spots or obvious dark flecks. The latter animal was visibly vibrating it's rhinophores while the former wasn't. Both were resting near a typical egg mass.